Majo Martirena & Rodrigo Fonti, 16. & 17. Juni
To run, you must first learn to walk
SA + SO von 13.00 - 14.30
Medium Level I
- ein Thema , das Rodrigo & Majo besonders am Herzen liegt!
Experiments with differents qualities in the walk - density and fluid experiments with different possibilities of embrace - " embrace laboratory" circular movements - discover the guides of the body for smooth circular movements Changes of direction - The process and the technique for each step to not lose the control. Music - we give sense to the walking depending on the orquestras.
Voraussetzung:
ab ca. 2 Jahren aktive Tanzerfahrung
The world of the infinity Ochos
SA + SO von 14.45 - 16.15
Medium Level II
how to improve our "ochos". How to lead and do them better for easier turning and more quality in your dance. . Working in the points of contact and the oppositions in the tango embrace. Sacadas and milonguero's crosses.
Voraussetzung:
ab mindestens 4 Jahren aktive Tanzerfahrung und Kenntnis von Ochos und Drehungen/Giro
Hanging from the edge: Colgadas
SA + SO 16.30 - 18.00
High Level
We study the mechanism to do colgadas, the timing and technique. Sequences for crowded dancefloors Circular colgadas
Voraussetzung:
ab ca. 7 Jahren Tanzerfahrung, Kenntnis von Colgadas
---
Kosten
pro Person (Sa + So)
| | Normalpreis | Frühbucherbonus |
| --- | --- | --- |
| 1 Kurs | EUR 55,00 | EUR 50,00 |
| 2 Kurse | EUR 102,00 | EUR 93,00 |
| 3 Kurse | EUR 155,00 | EUR 140,00 |
ANMELDESCHLUSS FRÜHBUCHERBONUS: 8. Juni

Organisator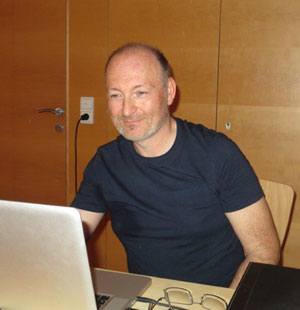 ---
Anmeldung
Anmeldungen sind verbindlich! Absagen aus zwingenden Gründen bitte umgehend an den/die Organistator(in) richten!
Die Anmeldung gilt erst dann als angenommen, wenn die Anmeldung per Mail von uns rückbestätigt wurde!
Kursort
Jugendheim Saggen, Falkstrasse 26, Innsbruck
Unterrichtssprache Englisch / Spanisch
MILONGA mit Auftritt von MAJO & RODRIGO und GAST- DJ Andreas " El Ingeniero" am SAMSTAG, 16. Juni in der Falkstrasse 26!
Tangomode Verkauf am Samstag Nachmittag und bei der Milonga:
Kreative Tangomode aus München - Tangokleider und mehr ...
danceandsew-shop.de
Tango macht schön - wir machen die Kleider ! Tangokleider, Tangoröcke, Tanztops, Accessoires. Die kreative Tangomode für Individualisten - Online Shop, Pop-Up-Store, Einzelanfertigungen
Nadja präsentiert aktuelle Modelle von Tangolera / Bandolera Schuhen bei der Milonga!
---
Über die Lehrer
Majo Martirena, started dancing tango at 16 years of age in her native country Uruguay. After a few years she was asked by Dana Frígoli to be part of the staff of teachers at her school, DNI Tango. There she worked for 5 years, being part of the team of teachers and dancers of the DNI Company. Together with the Company she did countless shows and presentations in the most recognized theatre and milongas of Argentina. She also worked and thaught at La Viruta, teaching together with Horacio "Pebete" Godoy. For the last 3 years, she has wo work together with Rodrigo Fonti, teaching and dancing in many festivals around the world together with him

Rodrigo Fonti, young, creative, funny and passionate tango dancer , born in southern Argentina. His milonguero spirit and his knowledge in contemporary dance, gave freshness, speed and density to his style of dancing, which along with his insatiable passion as a teacher, allowed him to teach and show his dance in tango festivals and in cities across the world, as well as to be part of the tango theater companies 'Kambras' and "No Bailarás" His constant research both in the art of motion and in the language of tango as a unique language , led him to find a solid mix between traditional and modern tango. .

Majo und Rodrigo sind eine Referenz für die neue Generation von Tänzern und Lehrern des Tangos. Sie vereinigen den traditionellen Tango mit der Phantasie des Tango Nuevo und entwickelten ihren eigenen Stil. Ihr Unterricht fokussiert sich auf die Verbindung als Paar, auf das Tanzen als Kommunikationsform und als gesellschaftliches Ereignis. Mit ihrer Nüchternheit und Eleganz, sowie mit ihrer soliden und effektiven Unterrichtsart zählen sie zu den Besten.